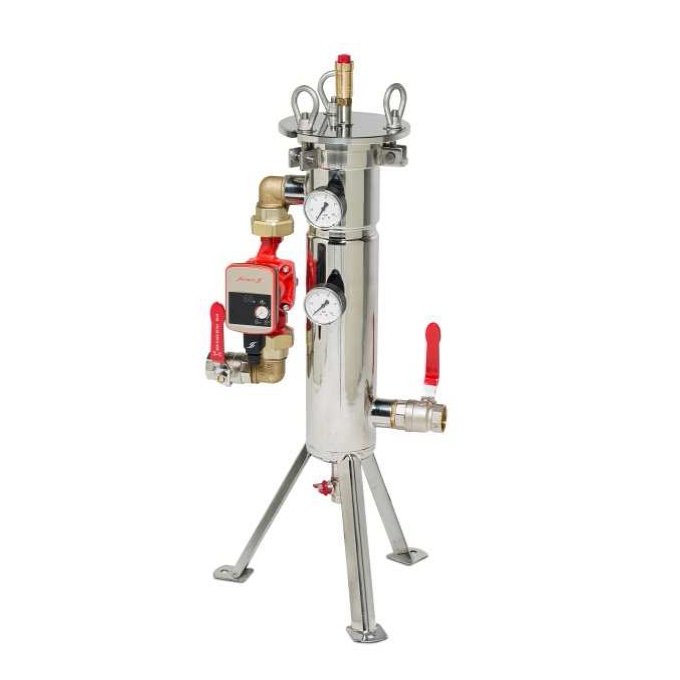 New filter: BWT SoluTECH Clarifier Unit XS
Focus on the product of the month: the BWT SoluTECH Clarifier Unit XS, filter with bag and magnetic bar.
The filter scavenges the system continuously by trapping the solid particles and magnetisable oxides present in the water. Its physical action completes the chemical action of the substances injected. The result protects your installations, specifically those using aluminium elements.
Applications
The BWT SoluTECH Clarifier Unit XS continuously eliminates the following elements in water systems:
Oxides and magnetisable particles

, are eliminated by its magnetic bar,
Other solid impurities, 

sludge and matter in suspension

 are eliminated by its felt filter bag.
The unit can treat systems of all ratings and is suitable for heating or chilled water systems.
Installation
The BWT SoluTECH Clarifier Unit XS is installed in bypass on the circuit return (allow between 15 and 30% of the circulation rate), preferably at the installation low point.
It is used:
Preventively on a new system, with the injection of a multi-purpose corrosion inhibitor treatment, such as SoluTECH Full Protection,
Curatively for a sludge clearing operation on an existing system, combined with a treatment such as SoluTECH Cleaner and sludge remover.
Standard equipment
The Clarifier Unit XS is supplied with a circulator pump and is ready to connect, including control pressure gauges.
Robust stainless steel filter case, with articulated bolts for easy opening.
Powerful magnetised bar that traps oxides and magnetisable sludge.
Filter bag that traps particles bigger than 25 µm (other filter grades available to order).
Clarifier filter under ATEC CSTBat.
The BWT SOLUTECH CLARIFIER UNIT XS is part of the SoluTECH process under ATEC CSTBat for the protection of collective heating systems, protecting all materials, including aluminium.
Please contact us for further information on the BWT SoluTECH Clarifier Unit XS and other products in the range.